My mom and my sister drove up from South Dakota this week to go school shopping. I love having them here. I don't like being so far away from home but I'm glad I made the decision to move to the big city.
Back to my fridge.....
So like most renters we have a crappy white fridge that is falling apart. The previous renters broke of one of the bars on the door and the freezer leaks water into the fridge. Needless to say we need a new fridge.
I don't know about other landlords but ours are never going to get us a new fridge unless this one breaks down. Since I'm not going to be getting a new one anytime soon I thought I would at least make it look prettier. But how to you make a renters fridge look pretty. I would love to paint it with chalk paint but I don't think the land lord would appreciate that, so.... Paint Fridge.
While reading the many DIY blogs I follow, I saw this.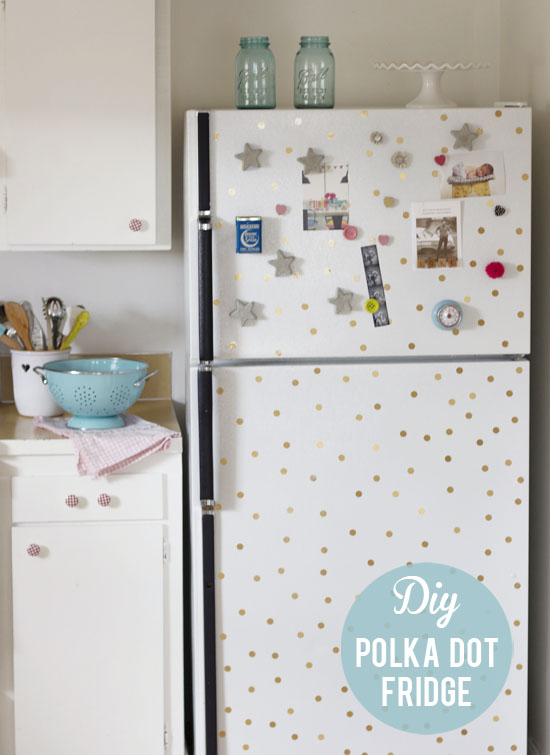 I didn't use contact paper but I did find some of those removable stickers that you can put on the wall. Well you can put them on the fridge too!! I put one on and peeled it off to make sure it wasn't permanent and they came off super easy.
So now my fridge looks like this.....
I used a couple different colors of stickers on my fridge. The package of wall stickers that I bought came with a turquoise color but I didn't think would look right with the other decor I have in the kitchen. Plus I think it has enough stickers on it.
I really like the way it turned out. So much better then the blah crappy white fridge that it used to be.

Have you ever used something for other then its intended purpose? If so I would love to hear about it. Maybe even try it myself.